My One Thousand Gifts - #1-10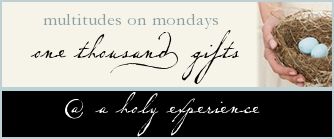 I am looking forward to reading
One Thousand Gifts: A Dare to Live Fully Right Where You Are
by Ann Voskamp of
A Holy Experience
. Have you read it yet? I have a feeling it is going to be one of those kind of books that does a number on my heart in a very good way.

Today I am beginning my own list of one thousand gifts. I hope to pause and reflect upon this life and to live it well with gratitude and a true sense of God's beauty and blessing.

My one thousand gifts begins with a list of ten.

1. Jesus - My Savior and Redeemer who brought me out of darkness into His marvelous light. He is my life.

2. Restoration - Although salvation was more than I could ever hope for or ask for, the Lord gave me beauty from ashes (Isaiah 61:3).

3. God's Word - Living. Truth. Faithful. A secure foundation. "For the word of the LORD is right and true; he is faithful in all he does." ~Psalm 33:4

4. My beloved - Strong. Compassionate. Loving. He is my best friend and soul companion. "...I have found him whom my soul loves..." ~Song of Solomon 3:4

5. Our first daughter - Beautiful heart. Tender. Compassionate.

6. Our second daughter - Vivacious. Zany. Loving.

7. Our family - Those near us and those at a distance.

8. Our good friends - Those who love us, share life with us, and encourage us in the Lord.

9. A warm home - Our cozy home where we share life together.

10. A new beginning - We are back home in Indiana, surrounded by our family and friends, and I am truly grateful.

Let the word of Christ dwell in you richly as you teach and admonish one another with all wisdom, and as you sing psalms, hymns and spiritual songs with gratitude in your hearts to God. And whatever you do, whether in word or deed, do it all in the name of the Lord Jesus, giving thanks to God the Father through him. ~Colossians 3:16-17

Have you started your list of 1000 gifts?

May the Lord richly bless you from His abundance.