New Journey with The Documented Life Project 2015
In years past I have set lofty goals and resolutions. This year my goals are simplified. It is a recovery year in many ways and I am on a healing journey towards restful and intentional living.
One aspect of my recovery journey is I am trying to rediscover my creative soul. I have a few creative friends in my life that have rekindled and inspired my creative spirit.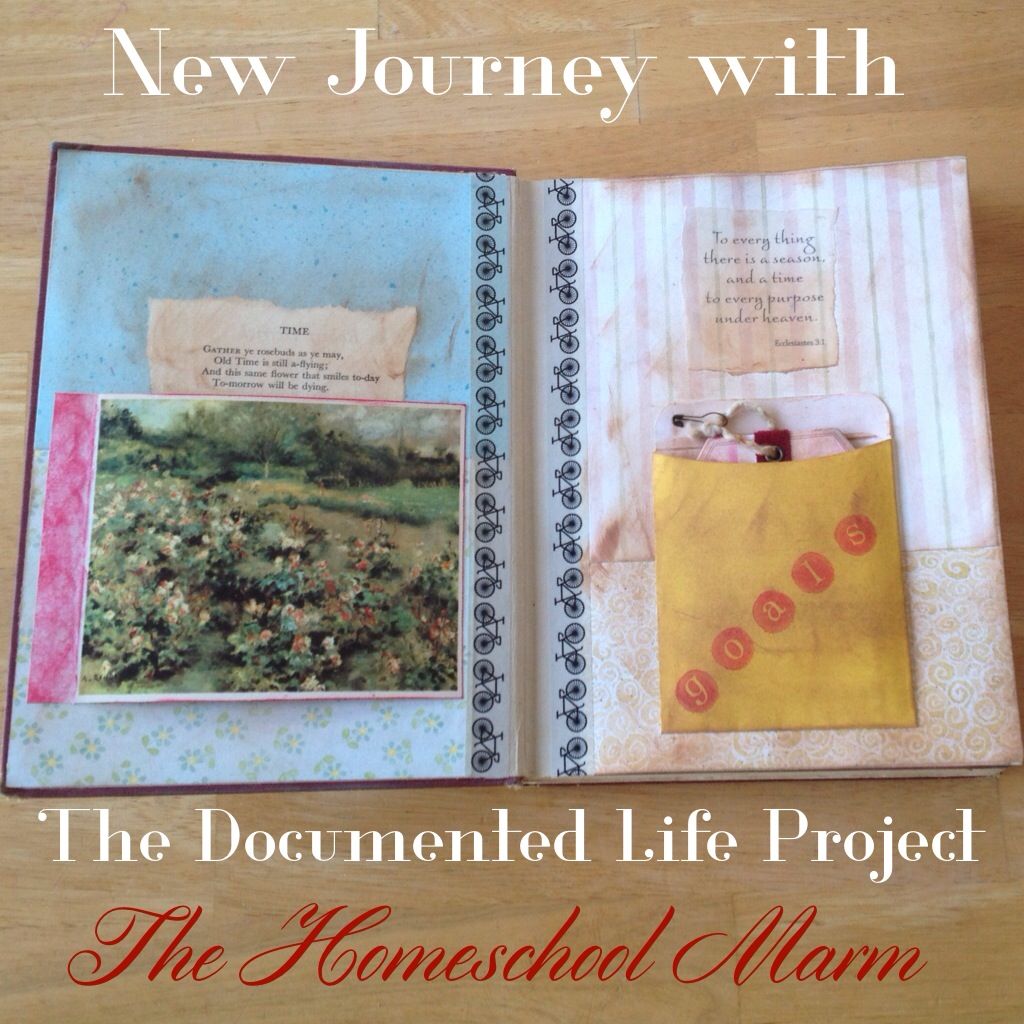 It is a slow journey. I am learning as I travel along. I hope to use my blog space to share a few projects I am working on as the year progresses. I feel a bit clumsy here as I am not a pro-blogger by any means. I am a bit of a mediocre tinkerer when it comes to blogging. Nevertheless, my extroverted storytelling nature finds delight in expression, and I thank you for joining me here.
Three primary projects that have captured my interest this new year are:
The Documented Life Project 2015
Documented Faith
Illustrated Faith
My artistic side has dulled over time but I am experiencing a reawakening as I participate in these projects. I am an eager student of the many gracious and generous creative souls who share inspiration and techniques freely online. I am a complete novice but I hope to encourage a few friends to explore their creativity. At first I felt intimidated by looking at the gorgeous illustrations, designs, and creations by artists within these communities. I do not feel particularly skilled in any mixed media. Once I got past the anxiety of staring at a blank page, I felt my creative energy rise and the creation process took right off!
If you are reading my blog and interested in exploring creative projects but not sure where to begin, I would encourage you to
just begin
. Beginning is the key to all creativity!
The Documented Life Project
is a themed journaling project hosted by
Art to the 5th Academy
.
I discovered it through Pinterest and this is my first year participating.
Art to the 5th
hosts free and paid workshops online.
The Documented Life Project
is a free project for new or experienced participants. They provide 52 weekly prompts for 2015, tutorials, and a community of inspirational art journalers. If you are interested in this project, sign-up on the website and you will have access to all of the weekly prompts and tutorials.
I just completed the Week 1 Challenge and currently I am working on the Week 2 Challenge. This post covers my Week 1 experience. Each month of
The Documented Life Project
has a specific theme. The January theme is
The Blank Page and How to Face It!
This theme is helping me work through my anxiety over the blank page. The art challenge for January 1 is book paper and the journal prompt is
Be Your Own Goal Keeper
. Each art journaler determines their own expression of the prompts with the use of mixed media. Within the DLP community, many artists share their photos, processes, and techniques. You can searched for the
#documentedlife
hashtag on
Instagram
and other social media to see examples.
Many art journalers working on the DLP project use the
Dylusions journal by Ranger
. This journal is superb! I can see why many people pick this. The cardstock paper is a perfect slate for mixed media. If you have a local Hobby Lobby, you can use the Hobby Lobby coupon via the mobile app and get 40% off the retail price. Some art journalers use various
Moleskine
journals.
I am using a vintage book for my DLP journal because I do not have a budget for any additional art supplies. Sometimes you just have work with what you have on hand. I am a master of making due but I also enjoy re-purposing things. I happen to adore vintage books. Who needs a mall? Take me to a thrift shop with vintage books and I am a happy camper!
My vintage book is a great medium for an art journal. The sturdy cover is heavy cardboard and I will apply my own unique cover in a future week. I want to learn a few new techniques before I create the cover. The pages are a heavy vintage paper.
I began with a few supplies I already had on-hand.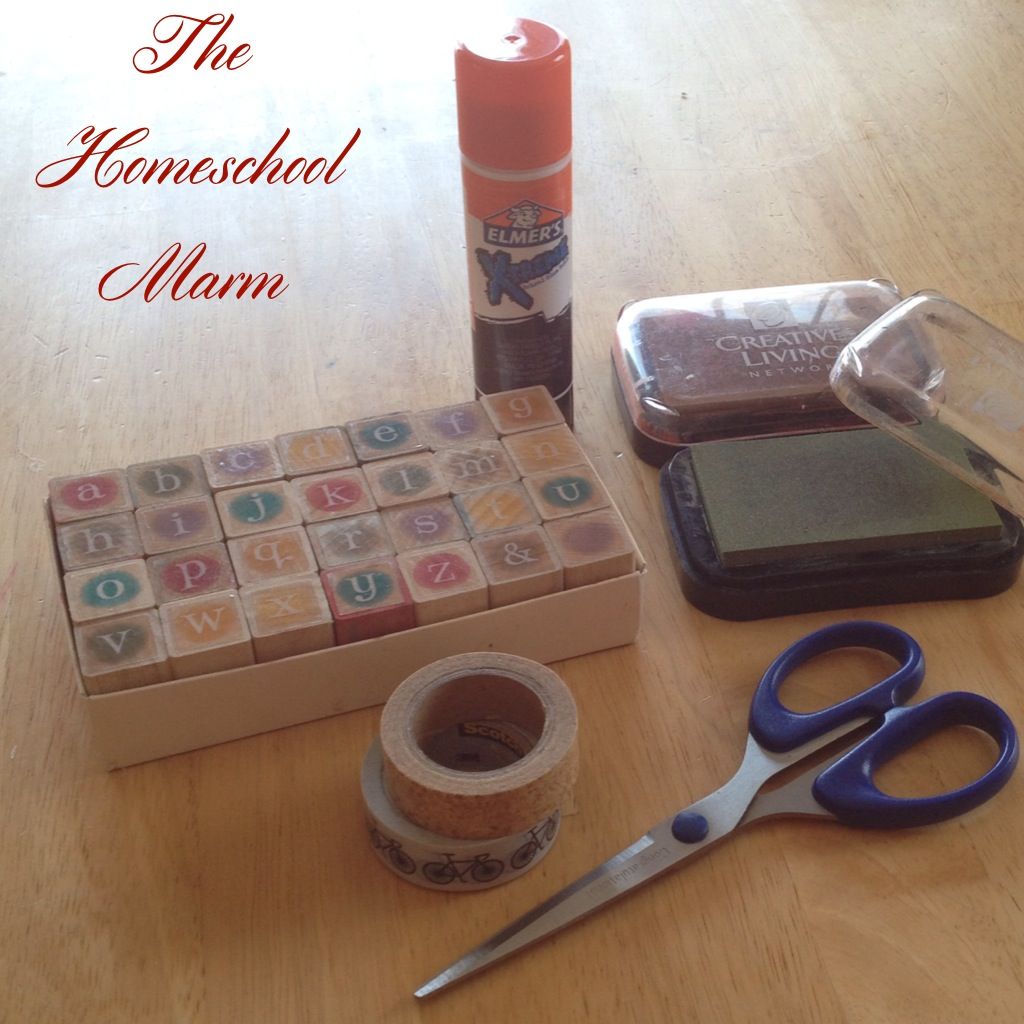 If you have a budget for art supplies, you can visit your local Hobby Lobby or craft store, and shop to your heart's content. They have aisles of supplies for art journaling. If you do not have extra funds for art, just look for what you have in your home. You may be surprised by how many art supplies you have sitting around or hidden in closets. Or you can be like me and once all your friends find out that you like to re-purpose things, they will bring boxes and bags of things to your house on a frequent basis. All of the supplies in this photo (except the bicycle washi tape) were given to me by different friends who thought I would make use of them one day. I am an organized pack-rat. Seriously. I even had a pair of
Pac Rat
shoes in the 80's.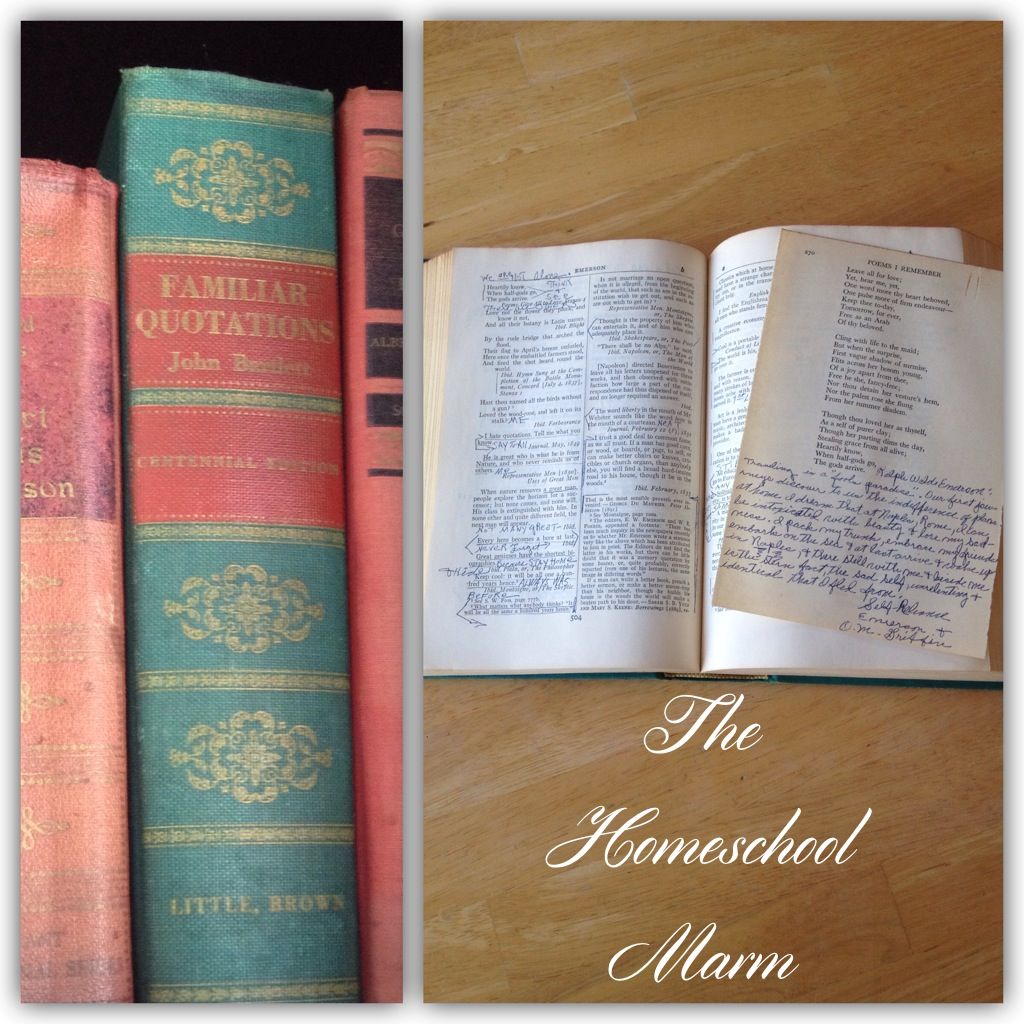 For January 1, the
art challenge was book paper
. I expressed this by using my vintage book as the journal paper and I used a paper leaflet with a poem on time. A couple of years ago, I found a vintage
Familiar Quotations
by Bartlett for fifty cents at a yard sale. It is one of my favorites! The previous owner scribbled funny little notes through the entire book. They also placed torn leaflets of poetry from other books. I used one of these torn leaflets in my journal.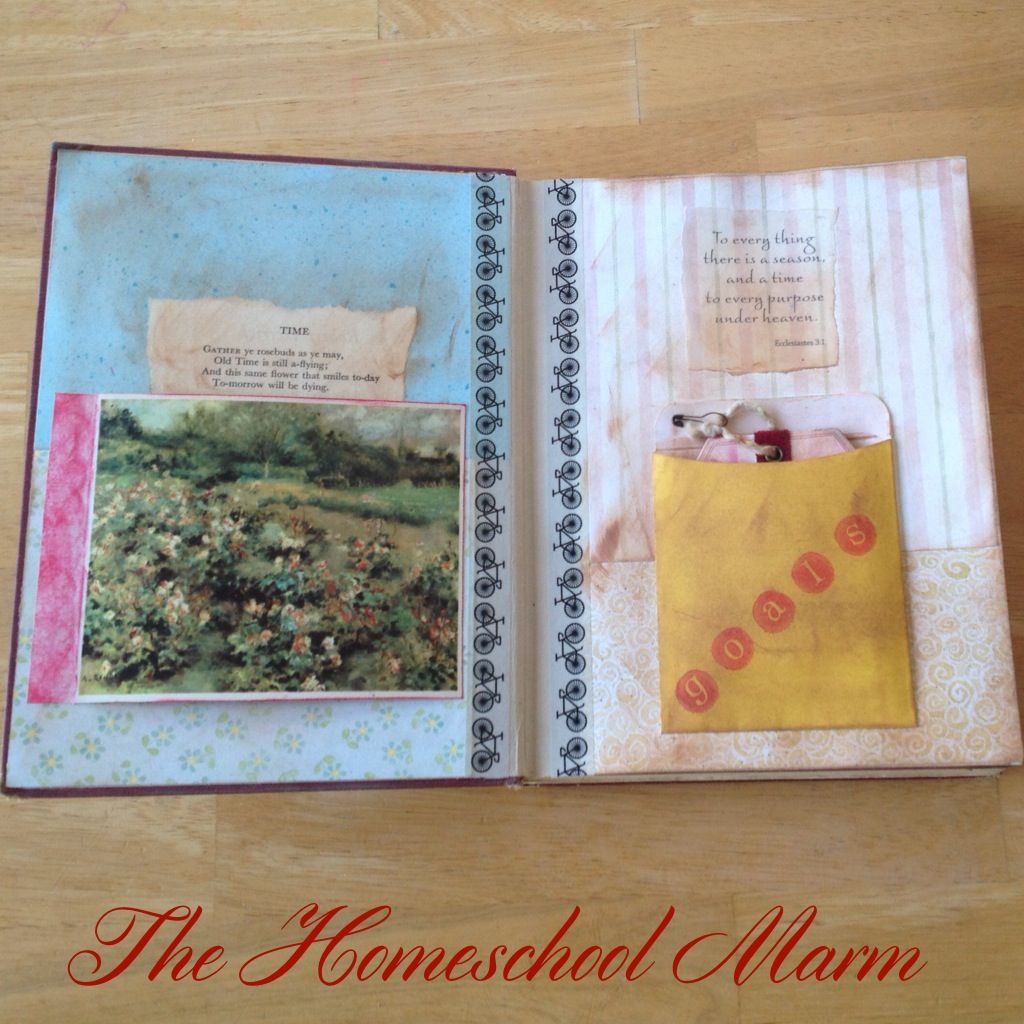 I began with four different pieces of cardstock (given to me from a friend's unwanted supplies!) and glued them down on my vintage book pages. I used a two-page spread for each week. I lined the side with washi tape to overlay the cardstock edges. Next, I ripped the paper around the
Time
poem and glued it down on top of the cardstock. It looked a little plain, so I found my ink pads (in the bottom of a box in the closet) and discovered they were mostly dried out. No matter, I put them to use anyway! I took the ink pads and brushed them against the paper. They were quite handy to add a vintage feel to the pages. I took a library pocket folder and glued it to the right side. I found another box of embellishments and oddities I saved in case I could put them to use one day. I found two nice cardstock tags from
American Eagle
jeans our daughter purchased years ago. Hey, they were nice tags! I knew I would put them to use one day! I took my dried-out ink pads and mucked the tags up a bit. Then I found two little folder tabs from my daughter's 4-H supplies when she was a senior in high school (currently a junior in college). I glued those down and they have my 2015 Goals written inside.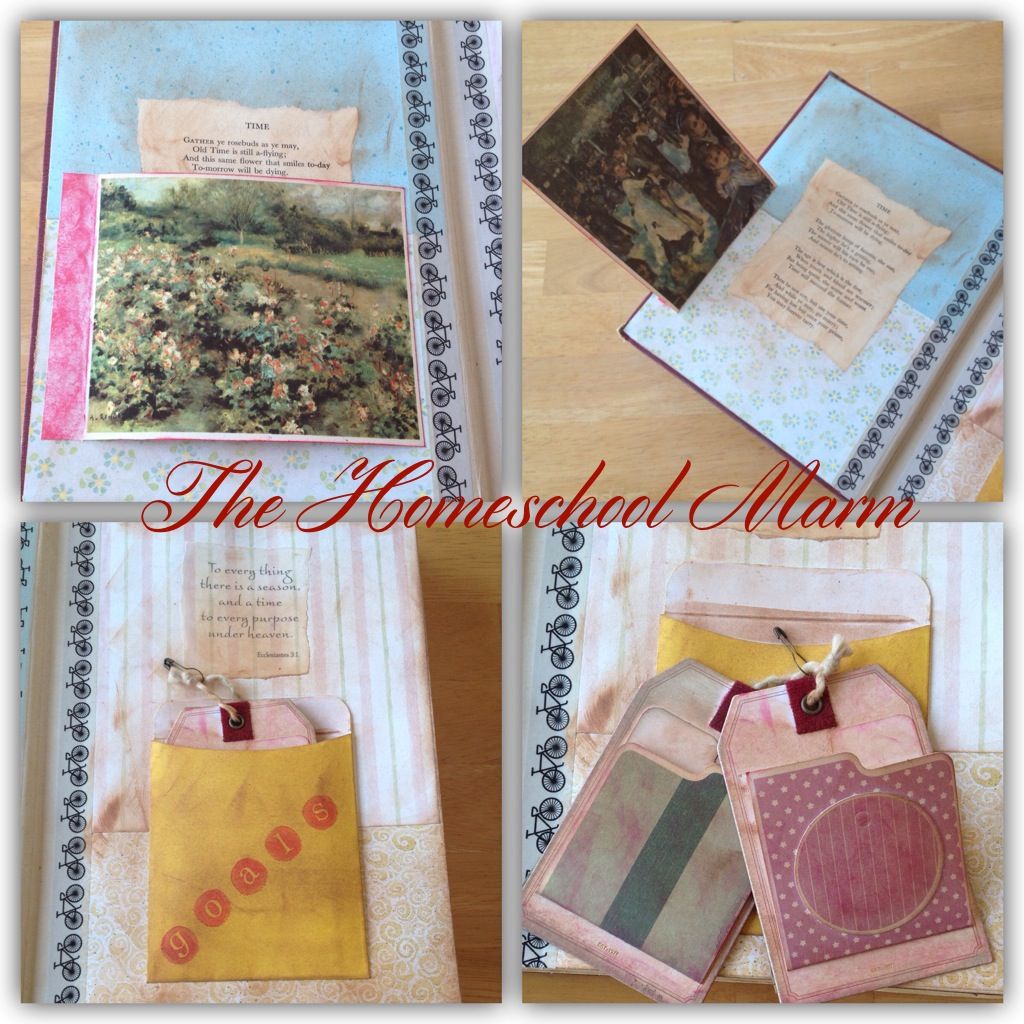 On the left side, I took a page torn from an art book (keeping with the book paper challenge) and overlayed it on top of the
Time
poem. It opens up so you can read the entire poem. Both sides of the book page feature a
Renoir
painting (one of my favorite artists!) which have a meaning connected to the poem. The rose bush painting is a reminder of the "
gather ye rosebuds as ye may
" opening of the poem. Life is fragile and brief. It reminds me to focus on what truly matters. The painting of the dancers is one of my favorites. I own a small reproduction of this work and have it displayed in my home. It reminds me to not get lost in the trivialities and trials of life and to make time to dance with my husband.
Overall, my opening art journal pages set the tone for my year.
It prompts me to reflect upon what I am truly going to do with the time I am given.
My goals are right there to guide me in my journal. This art journal is not just an artistic pursuit as I find spiritual meaning in pausing, reflecting, praying, and creating. It is part of my healing process. A few years ago, I would have never taken the time to sit still long enough to create.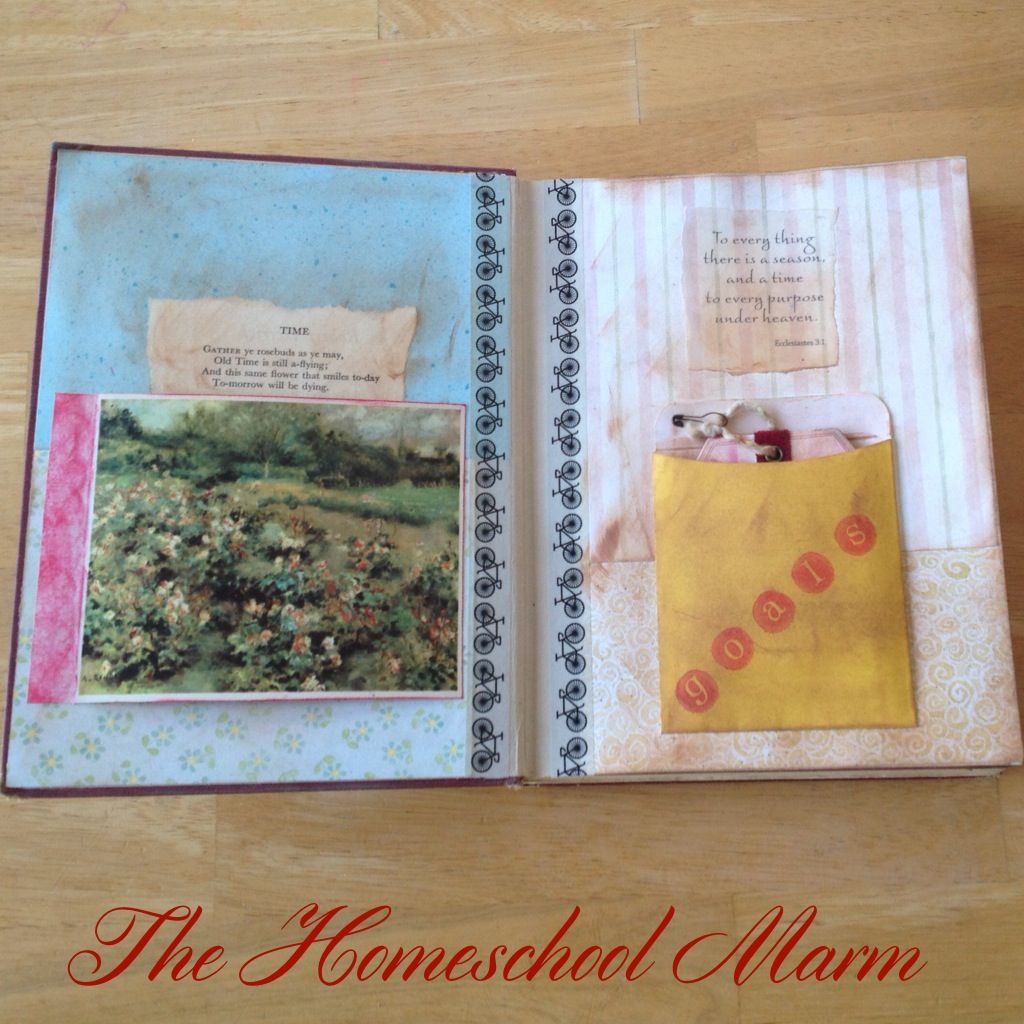 So this is my hodge-podge art journal. I don't really know what I am doing but I sure had fun doing it! I surprised myself. I cannot even call it a finished product because I have a few more ideas. It is a work-in-progress just as I am. My family laughs at my pack rat tendencies but I think my subconscious knew I was really a creative soul and that one day I would find myself again.
Friends, what about you? Do you enjoy journaling and artistic pursuits?
Be sure to visit my friend Christa Sterken at her
blog
! I learn a great deal from her blogging, tutorials, and inspiration. She inspired me to just begin the creative process!